The verdict is in, Mobtimizers endorses using App Store Search Ads. One of the most highly anticipated features of Apple's iOS 10 release was the new Search Ads format, allowing for paid traffic within the Apple App Store, and promising potential for increased downloads and discoverability.
Mobtimizers is following this development closely. Though Search Ads have only launched recently, and most app developers and marketers have not had the opportunity to explore its full potential yet, Mobtimizers has already tested Search Ads in practice. Working for our global client, Digidoc, we have designed, implemented, and are continuously optimizing campaigns for the U.S. market.
From this applicable experience we conclude that App Store Search Ads are a very relevant addition for anyone working strategically with app marketing and App Store Optimization (ASO). In fact, proper ASO proves invaluable to a successful Search Ads campaign.

Search Ads boost organic downloads
Competition in Apple's App Store is fierce, with more than 2 million apps available. As 65% of apps in the Apple App Store are found via the search function, it becomes increasingly more relevant for marketers to do something extra to stand out. Until now, ASO has been one of the most economically viable ways to improve discoverability and generate app downloads. And now, Search Ads is proving to be a welcome addition to keywords and search optimization, where top rankings are always hard to obtain organically.
Search Ads best practices
Now it is possible for companies to have their app in the spotlight at the top of the search results in the Apple App Store. Thus far, this prominent paid ad space is only allowed for apps available via the US Apple App Store with content related to the app's description, to ensure that ads are, in fact, related to products that are available via the portal.
The idea of the format is to make it possible for developers and marketers to expose their apps to more potential customers. The ads will be sold via an auction system with no minimums and no exclusives, so that the smaller apps can also seize this opportunity. You can read more basic info on Apple's site here.
When delving into App Store Search Ads, it is critical to set up several campaigns, analyze results, and routinely adjust your segmentation and keywords. It is an ongoing process in conjunction with ASO. As Apple states on their Search Ads How It Works page: optimized app titles, descriptions, keywords, and metadata, improve your relevance for Search Ads.
As far as cost is concerned, you can determine the maximum amount you are willing to pay for a tap on your ad. This rate is adjustable at any time. And there is the option to apply a maximum daily spend cap for greater control over how your campaign budget is spent over time. You can start or stop ads at any time, and there is no minimum spend, or long term commitment.
Still, planning and preparing your campaign is only the tip of the iceberg. In order to generate successful results with your Search Ad Campaign, you have to monitor it closely, and continuously optimize it, along with other CPI campaigns.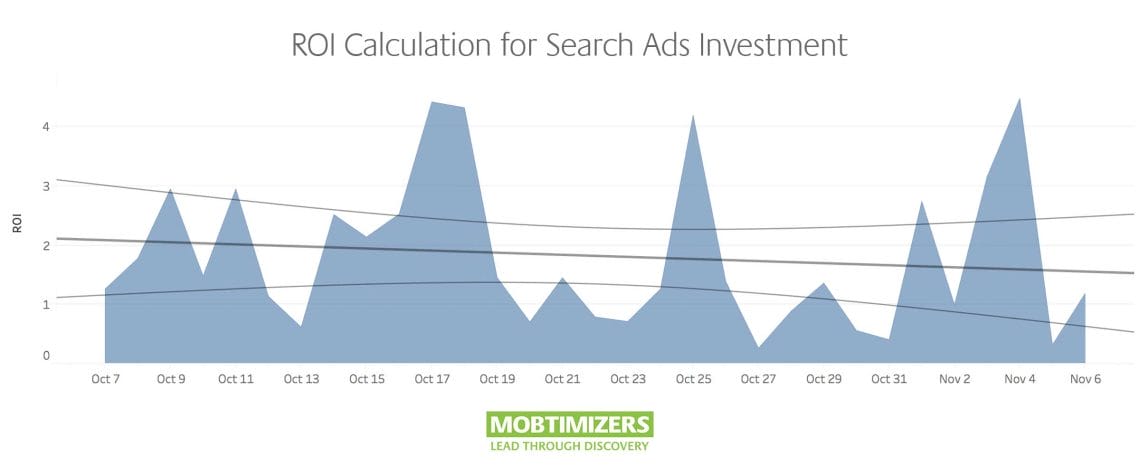 App Store Search Ads Optimization and monitoring are keys to success
Search Ads results from the campaign Mobtimizers is running for Digidoc speak for themselves. Preliminary ASO (App Store Optimization) ensured optimized description, icon, screenshot, keywords, and localized language – increasing App Store downloads/conversion by 3x. By managing, configuring, and optimizing App Store Search Ads we achieved a ~200% ROI.
Other overall benefits of Search Ads campaigns are an obvious lift in downloads as well as a lift in rankings. Almost immediately after implementing Search Ads, our client saw a 10% lift in category ranking.
Curious about how Mobtimizers can help you get started with Search Ads? Don't hesitate to call or write us – we are sure we can help you.