Update August 23rd 2014:
Google made available a new set of features today allowing advertisers and developers to drive installs from Google search as well as Youtube. Read more here: Driving Mobile and App Installs with Google Search
Update July 19th 2014:
As mentioned below, facebook ads currently give one of the best ROIs. New estimates from eMarketer, in this New York Times article, confirms:
"Mobile, however, is something that Facebook seems to have cracked. The social media giant accounted for almost 16 percent of mobile advertising dollars spent around the world last year, eMarketer estimates, up from 9 percent in 2012. Google dropped to a 41.5 percent share of the mobile ad market last year, down from 49.8 percent in 2012.
---
Mobtimizers joined the App Promotion Summit 2014 in London along with app developers, industry experts, and leading agencies. Here is a distilled post outlining the most important conclusions from the Summit.
App optimization and ongoing enhancement of the user experience was the prominent topic.  Presenters outlined key statistics and facts underpinning the significance of these strategies. Most importantly, the fact that mobile usage has overtaken desktop usage. "The App sphere is maturing and we are seeing apps become the primary point of engagement for many companies. To succeed in the current app landscape, you have to launch your app with an insightful and well structured long-term strategy. You have to nurture your app to ensure continued growth and survival in the app jungle," says digital strategist and co-founder of Mobitimizers, Peter Godtfredsen.
App Annies opening presentation demonstrated Asia's rise in the growing App market. App Store localization for the Japanese, Chinese, and South Korean markets have immense potential and growth. Stefan Bielau from Dynamo partners, and others, noted that translation to local languages must take culture and local search behaviour into account to be effective and trustworthy.
Optimizing for customer lifetime value
Peggy Anne Salz from Mobile Groove Media spoke about the art of brand engagement with apps and argued that app engagement is the key to building a strong brand.
"It is clear that the previous limited focus on driving downloads and installations has been replaced by optimizing with the customer experience and the lifetime value of customers in mind," says Brian Egerup Kjærulff, co-founder of Mobtimizers.
As the Customer Lifetime Value (CLV) becomes the key metric, it has big implications on the methods and approaches used in optimization. This idea can be divided into two tracks:
Reaching users with the highest potential of engagement and loyalty
In short, targeted ads, PR, social ads, and video should be the primary approach to reaching potential users. However, mobile ads are problematic as 40% of clicks are fraud or accidental. Social ads on Facebook and Twitter show great results and ROI. Companies with limited budgets should therefore focus their advertising around these two platforms. Benjamin Hansz from Fiksu pointed out that Facebook has the biggest reach with 0.5 billion smartphone/tablet users.
"Successful app promotion requires a broad approach, social, web and app store promotion must all be included for an app to flourish. Think about how offline channels like TV and events can be integrated in your app-promotion marketing strategy", Brian Egerup Kjærulff concludes.
Social integration in apps enhances organic and viral growth. In-app customer service and engaging with reviewers can have a huge impact. Within the App Store, videos will become more important with the release of iOS8 (fall 2014). Sylvain Gauchet from Apptamin showed a 30 second presentation of "RetailMeNot" followed by a few lessons learned from experimenting with the new format.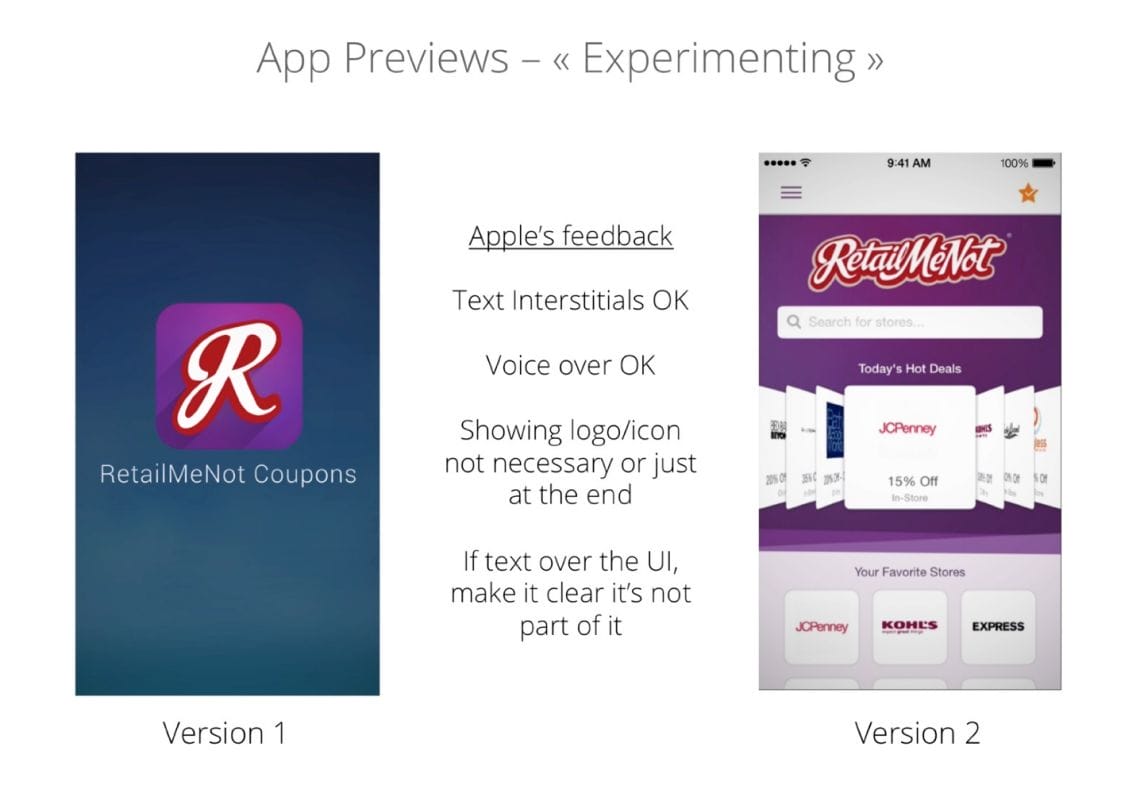 How to ensure app users engage, return, and remain loyal
Research shows that 80% of apps are only used once, some are never opened. Only 5% use an app after 6 months. And only 10 apps are used regularly. This is a key problem for app developers and publishers.
Presenters at the APS Summit discussed ways to overcome these barriers. This begins with the creation of a valuable, usable, and well-designed app. Yet, the work doesn't stop there – below is a quick list of important findings:
• Push messages have proven to be effective with 93% higher engagement
• 53% of people will accept push messages, according to Mick Rigby from Yodel Mobile
• Use your app update to foster re-engagement
• Add new features continuously to keep users interested
• Use app push messages, e.g., lock screen push or in-app push
• Add small tutorials in the app to explain how it works
• Use 50% of your resources on increasing engagement
• Deeplinking in apps is easy and can enhance the user engagement
• With the new video feature users know what the app can do and we can see higher engagement rates
Analytics played an immense part at the summit. It stands out as the key component of any successful app optimization activity in the future as the competition is harsh and app users expect only the best.
On a last note, iOS8 is arriving soon. This will mean big enhancement on analytics for app developers and analysts. Attribution (measurement of user events, such as an app install, repeat app launch, level completion, or in-app purchase) is a key challenge, as well as retargeting, A/B testing, review mining and real time bidding. These tools will gain importance with the new iOS8.
Many thanks to the organizers, presenters, sponsors and participants, for a great App Promotion Summit. See you next year.