What are the key strategies for creating business value through your apps today and in the near future? Mobtimizers joined one of the world's leading conferences on App Promotion and Marketing to share insights with the leaders of the app economy. This article discusses the main highlights from The App Promotion Summit in Berlin, 2014.
During our APS London visit last August, we saw a strong emphasis on the continued growth of consumer involvement and interaction in the mobile and app sphere. Of particular note, apps will gain importance in many industries, as the time spent engaging with apps has already surpassed that of the web and mobile web.
New hot buzzwords in presentations and discussions were: growth hacking, iOS8 and video. App Store Optimization (ASO), app advertising and engagement strategies were among the usual suspects.
Unlocking the potential of apps
The App Promotion Summit was divided into 4 main topics:
App Store marketing
App advertising
Post install
Future of app marketing
1. App Store marketing: Increase visibility and conversion
How do you reach your audience and convince them to choose your app? First step is to rank higher in App Stores, on social media, app reviews sites, and where your target group spends their time. Step two is to convince them to click the install or buy button in one of the App Stores. Therefore a key question on everybody's mind was: How to do that as quickly and cost-efficiently as possible?
Soundcloud's Andy Carvell proposed a need to approach mobile growth in a more "holistic manner." His Mobile Growth Stack framework is meant to work as a checklist for app marketers, as it covers a broad range of  disciplines within app marketing. By no means should every activity in the framework be used. A successful growth strategy should rather be a subset of activities cherry picked from the framework, to match particular app or business needs.
The Mobile Growth Stack, read more about Andy's concept here.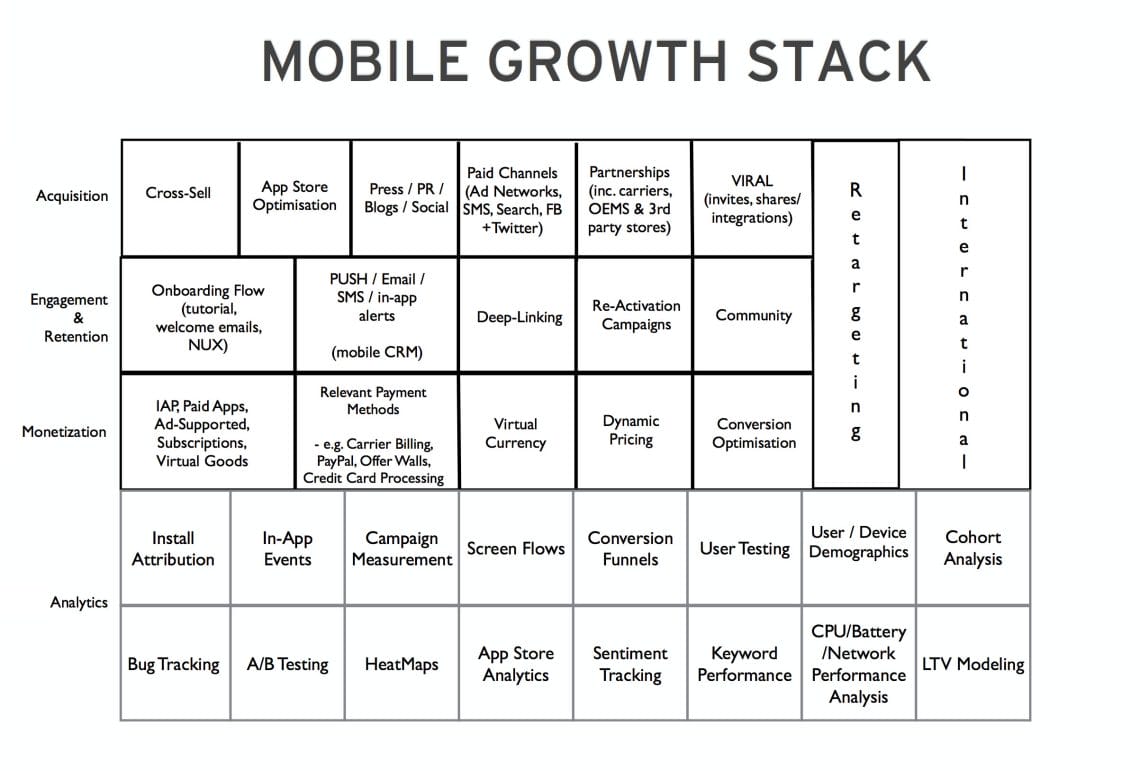 Marie Steinthaler from Hopster presented a similar idea, namely that a successful strategy requires a customized stack of growth activities.
ASO insights of the day came from Tom Leclerc at Wooga. He argued, "Review mining will help you get closer to your customers." The objective is not only to listen to the customer to improve your app, but also to use review mining as an essential approach for keyword generation and selection. App reviews reflect the way consumers think about your app therefore paying attention to reviews can help improve your optimization. Mobtimizers' wrote about extrapolating user reviews and developing taxonomies as a part of our Ultimate Guide to App Optimization – which would serve as great inspiration for those who wish to extract keywords from user reviews.
Stefan Bielau from Dynamo Partners showed several examples of promoting apps on TV. "With TV you gain massive reach and also valuable users," he explained. Using TV to promote your app could be an option if you have the budget, as it becomes more difficult to gain users though the organic and paid channels.
App videos gain importance outside App Store and TV. Youtube is the 2nd largest search engine, the 3rd largest social network, and the single most important video platform. You can reach out to YouTube key influencers, seed videos, or enable the paid advertising formats, to support the promotion of your apps.
2. App advertising: User acquisition (push)
How do you rapidly increase your app user base? Ad install campaign could be the right choice depending on your budget and business model. Among the presenters there was a broad consensus that spending money on install campaigns is a waste, if they are only focused on the app install. "An app install does not equal an app user," as Joana Picq from Jampp expressed it, referring to the fact that less than 5% of users actually stick with an app for more than 6 months.
An app advertising expert panel summed up their experience on how to get started quickly with app advertising: As we know from online marketing, using attribution analysis to identify where your most engaged users originate from can give you great insights into where you should spend your media budget. Facebook and Twitter seem to be a clear first choice platform to run install campaigns, since it is easy to get started and because you can segment to target your audience. The Facebook "Lookalike Audience" feature was shown as an example of how it's easy to reach people that are similar to the users you have already acquired.
The next level of app campaign analytics and optimization could be to personalize onboarding and the in-app experience in real-time, based on which channel the user has arrived at your app, and what you know about the user. As Simon Kendall from Adjust puts it, "Most mobile apps are static. They do not listen to who you are and what you do." Read more about the concept on www.adjust.com/real_time_data
3. Post install: Analytics, engagement, and app CRM
Engagement was a key topic at the App Promotion Summit in London this summer, and now at the APS Berlin the topic was still hot. Optimizers want to connect the right users to the app through paid and organic methods. The challenge is how we identify 'the right' users and how we keep them engaged.
Lele Canfora from Lovoo stated: "Different tactics and channels can be applied to increase engagement. You can use internal app channels like push messages, or another option is to use external platforms like social networks, or ad networks to do retargeting outside the app – to get users back to your app."
Working with engagement requires consciously thinking about what engagement KPI's you want to optimize against. That could include 30-day active users, frequency of app usage, or other relevant metrics.
4. New approaches and future of app marketing
The app and mobile space is the frontier of new innovations and concepts. As Mick Rigby from Yodel Mobile explained, "No one can predict the next big innovation within mobile." He summed up the conference by showing a collection of best practices in each process of app development and promotion: design, launch, and repeat. But, most notably were the numbers from a Weve analysis that showed 46% of all 18-34 olds agree with this statement: "Mobile is the most important screen to them." Source: www.weve.com/mobile-eclipsing-tv-as-the-first-screen-for-consumers
The most valuable take-away: The holistic data-driven approach
We've seen a flurry of articles and presentations trying to simplify app promotion and optimization over the last couple of months. Creating models enables us to deal with complexity. The holistic data-driven approach should be seen as a toolbox diverse enough to handle a multitude of projects. For every app there are different challenges which require different tools. Sticking with one model or tool might enable you to perform quick fixes in App Marketing and Promotion, but the risk is short-term success over longevity
The major take-away from the conference is: Chances of success increase if you have a holistic approach to app marketing and promotion, combined with the proven strategy of ongoing data-driven iterations and testing against your KPI's. Creativity and strategic planning have always been the center of successful marketing – it still is about the ability to bring the message across to your key audience.